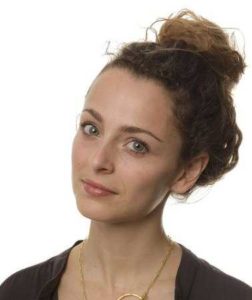 Viime viikolla projektissamme vieraili tohtorikoulutettava Chiara Jongerius Amsterdamista. Viikon aikana Chairalle esiteltiin projektia ja hän pääsi esittelemään väitöstutkimustaan ja aineistoaan eri yhteyksissä. Viikon lopuksi Milla Järvesivu kirjasi Chiaran ajatuksia kuluneesta viikosta.
Could you tell us a little bit about yourself and your interests?
"I am a doctoral student at the Amsterdam University Medical Center and the University of Amsterdam. My topic of interest is the doctor-patient interaction. Today, doctors are forced to use the computer during the consultation with the patient. In my research project we use mobile eye-tracking glasses to observe where the doctors are looking when they are in conversation with their patients. We want to examine if, for instance, the amount of eye contact between the doctor and the patient during the consultation has an influence on how much trust the patient has in the doctor after the consultation. Eventually we hope to improve the communication between doctors and patients."
How did you get interested in the VOIS-project?
"I met dr. Melisa Stevanovic in Verona, Italy, during an international meeting on psychophysiology. During this meeting Melisa presented about her research projects and I noticed that she was using very elegant methods to study interaction, such as eye-tracking. For my research project I also use eye-tracking, so when I saw that the Amsterdam Public Health Institute offered grants for travel opportunities I immediately applied to come to Helsinki to have a glance at the VOIS-project."
How has your stay been? Has it lived up to your expectations?
"My stay has by far exceeded my expectations. The people that work in the VOIS-team have been truly welcoming. Helsinki also offers amazing food and a wonderful winterly landscape with lots of snow and ice. I feel very lucky to have visited your university."
What has been the most interesting or memorable during your visit?
"I had the chance to present my research project to a group of experts from different fields during a seminar. I really enjoyed the challenging and relevant discussions that emerged and the thoughts that the researchers shared with me on my topics of interest. I will bring home new ideas to improve my research project."
What are your thoughts on the VOIS project after the visit?
"The VOIS-project is a very promising initiative, offering new insights in mental illness and how it relates to social interaction. It is therefore relevant both for theory and practice. I look forward very much to hearing and reading about the results of the study!"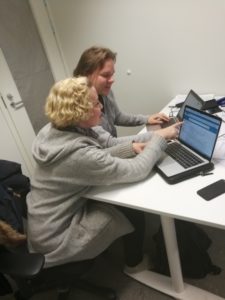 Samuel ja Melisa esittelevät Chiaralle dataa koodaussessiossa.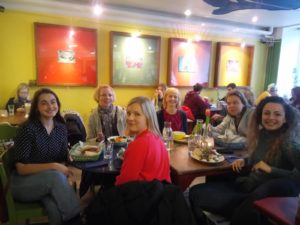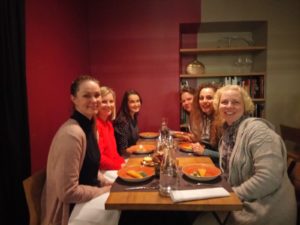 Tutkimusryhmäläisiä Chiaran kanssa lounaalla ja illallisella.